8 min to read
MSI PS63 Modern - GTX 1650 + 10 Hour Battery!
Original video published on Jun 2, 2019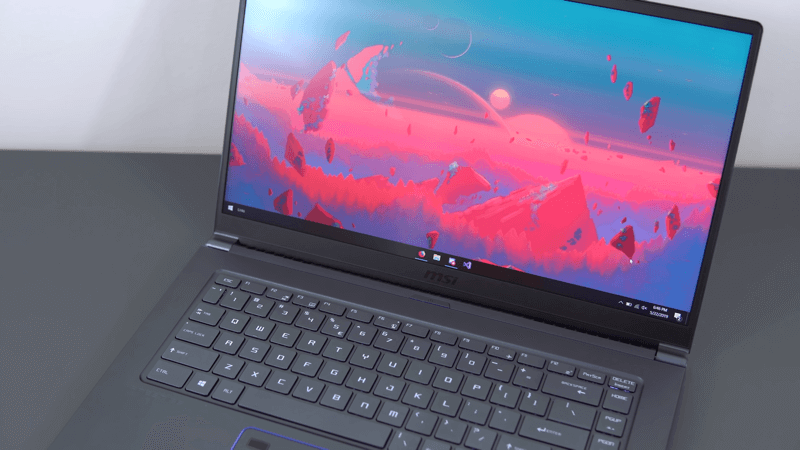 What's up guys, this is the MSI PS 63, it's a pretty unique laptop in the way its balances performance and portability.
Overview

So it's a thin and light 15 inch laptop, it's running a low-power quad-core CPU with a GTX 1650 so the performance is kind of middle of the bunch between an ultrabook and a full-on gaming laptop, and it's also got a big beefy 82 watt-hour battery inside rated for 16 hours battery life, and I feel like for a lot of people this is the perfect balance between portability performance and battery life. It's kind of just good at everything.

Now for a clarification there were a couple reviews of this laptop that came out a few months ago, but this one has been updated with the GTX 1650, there's one without a GPU, the GTX 1050, and this one, but they're all first generation laptops. So this one isn't like an update to the one that came out a few months ago. Let's check it out.
Build

The build quality of the PS 63 is really good, much better than the other gaming laptops. The top deck has been reinforced, so there's no flex. The keyboard is solid, there's an average amount of flex with the screen, but I'd say otherwise it's a really well-made laptop. The hinge is tuned perfectly with one hand open and the rubber feet on the bottom are super grippy so this thing doesn't slide around on your desk which is nice. I believe this is the only color that you can get this in, so it's like this dark grey with a blue shumpert around the laptop and they kept a logo pretty stealth it's like this black on black dragon logo, no LEDs, it's pretty slick.
Screen

The screen they're running is a 15 inch 1080p panel the viewing angles are excellent, brightness, color gamut and color accuracy are okay, not terrible but not great either. And I'd recommend calibrating it if you're doing any color sensitive work. They only offer it with the 1080p screen right now, so there's no 4K or OLED option with better color accuracy, but I do hope MSI adds OLED to the next one.
Speaker

As usual with MSI laptops these speakers are located at the bottom front of the laptop and these aren't great they're a bit quiet and the bass is really lacking so if you're doing any editing or gaming, you'll probably want to use headphones. They're okay if you need to use them, like if you just want to watch a quick youtube video they're fine and they don't sound bad, it's just kind of average, they're not amazing.
Keyboard and Trackpad

The keyboard and trackpad are both good but there's just a couple small details that keeps them from being great. The keyboard is sights well, it's got a great layout, three-stage white LED backlighting, but the key travel is rather short. I got used to them in no time so I'd still say they're good, but it just needs a little bit more travel. And the trackpad is your usual 2019 stuff with smooth glass surface, windows drivers. There's a fingerprint sensor in the top left corner, I wish it was on the right side because I'm right-handed but it's there. And it's size pretty well, the clicks are kind of soft and I'm having this weird issue where if I move the cursor around and I do a hard stop the cursor kind of lags behind a little bit and ends up going a bit farther than I wanted.
Performance

Game performance test
So you're probably wondering about the performance because companies don't usually pair a low-power Ultrabook CPU, so in this case the i7-8565U with a GTX 1650, and performance is actually pretty good. Lighter games will play without a hitch, Triple-A games from 2017 and older will play at 60 FPS at medium to high but the current and more demanding games like the Shadow of the Tomb Raider will need settings dropped to medium to low to maintain 60 FPS. Definitely not a dedicated gaming laptop but it can definitely game as long as you don't mind lowering the quality a little bit.

Editing performance is also really good I did my testing using the DaVinci Resolve 16 instead Premiere because it's faster and I find it easier to use with takes less time to edit a video. It handles 4k video with color correction easy.
Memory and SSD

Disk benchmark
It also uses dual channel RAM, both sticks upgradable and the SSD they're using is a Toshiba Drive with good reason writes.
Thermal

With the fans on auto this thing will run into the 90s but if you max out the fans then there's no thermal throttling. Temps for the CPU and GPU average at around 71 degrees and 62 degrees under a full load and the surface temps are also comfortable. The top deck does get pretty hot but the keyboard and Palmer's area are fine.

The last thing that I want to mention is that when you have this thing open the exhaust vents are upward facing. So were like it fires up to the screen but when you have this thing close, the screen clears the vent so it doesn't actually exhaust hot air back into the laptop when you're using this thing in a clamshell mode.
Port

It's got a decent mix of ports so you have your power, HDMI, USB-C, USB-A and a headphone, microphone jack and on the right you have two more USB-A s and a micro SD slot. I would have liked to have seen Thunderbolt 3 through that USB C port and I also wish they replace the micro SD for a full sized SD, but otherwise pretty good three USB-A ports.
Battery
Inside is an 82 watt-hour battery and that combined with the power efficient hardware gave me like 10 hours of battery life with light use. I've seen the reviews that claimed between 11 to 12 hours of battery life, I'm getting 10 hours which is still really good that's more than a full workday. While gaming you can expect about three, maybe three and a half hours of battery life depending on the game.

It also comes with a super compact 90 watt charger that ends in a barrel plug and if you want to use USB C to charge your laptop, unfortunately, that's not really a thing on this laptop. I tried with my Macbook Pro charger and it doesn't really work.
Summary

So, overall thoughts on the PS 63 Modern are really positive, it's super thin and light it weighs just three and a half pounds which is what a 13-inch MacBook Pro weighs. It's got good performance fold a battery with my only real complaint being the speaker's, it's just in a bad position.
As for the price this model goes for $1,500 so it's the i7-8565U, GTX 1650, 16G of ram and a 512 G SSD, and if you're looking at this primarily as a gaming laptop you're gonna be in for a bad time, you have to look at this more as an LG gram, so portability and better life first with the added bonus of having that GTX 1650 to give it more power when you need it. Because none of the thin and light gaming laptops are pulling 10 plus hours of better life in such a small form factor and if that's what you're looking for this is an awesome laptop.
So that's gonna wrap this review up leave a comment with any laptops or phones that you would like me to review I hope you enjoyed it and I'll see you guys next time.