7 min to read
My Top 5 Favorite Bluetooth Headphones 2.0
Original video published on May 17, 2018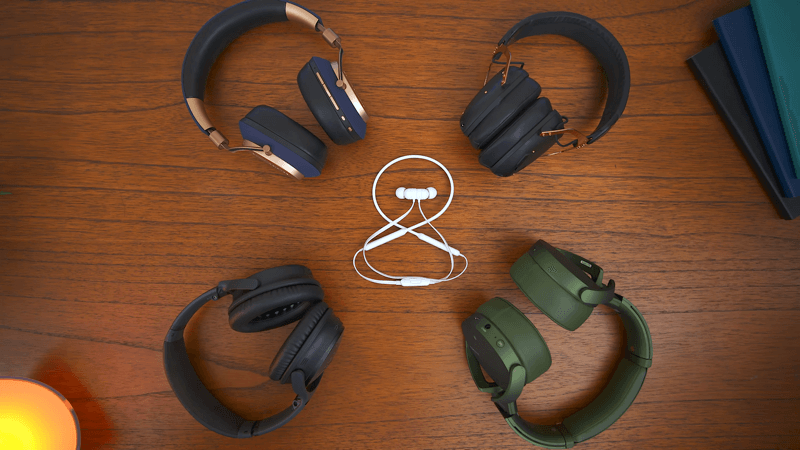 It's been a while since I let you guys know which headphones I've been enjoying lately especially Bluetooth headphones, so these are my top five favorite Bluetooth headphones…

Bowers & Wilkins PX
The best-looking pair of headphones on this list. Bowers & Wilkins make some really classy looking headphones.
Over-ear design with spacious ear cups. However, they aren't the most comfortable because they are a bit of a snug fit, but they do fit well and they offer a lot of room.
Solid pair of headphones. They feel and look premium which I can absolutely appreciate, especially since this is a bit on the expensive side.
Not foldable. With the case that it comes with, you can lay it down flat, put in your backpack, or store it in a drawer.
A really balanced sound, very clear vocals, not too bass heavy. I recommend listening to these for a while before you can get the true sound out of them.
There's a sensor inside the ear cups. If you have to take your ear cups off for a second, it'll automatically pause your music. When you put it back on, your music will continue playing.
Uses USB type-C charger, almost all other Bluetooth headphones use micro USB.
Active noise-cancelling when you want to drown out your surroundings and just focus on your audio.
Ambient sound feature when you want to hear background noise going on around you.
Access the headphone within the app if you're looking for more control.


Bowers & Wilkins PX is a great option if you're looking for a pair of headphones that have great build quality, great sound, a ton of features, as well as a balanced sound signature.

Sony XB950N1
Ever since the 950 BTS I have completely fallen in love with these headphones.
Design-wise these aren't the best looking, they're a little bit on the big side. However, the big cushions give tons and tons of comfort.
Foldable. The travel case that comes with isn't the best, it'll definitely protect it from scratches but it's not a hardshell case.
Access to the companion app if you really want to get down and mess with the sound a bit more, you have a lot of options with this headphone.
Sound quality: If you like to hear bass, stop reading and these are the headphones to get. These sound amazing just on its normal mode, plus a bass effect button to turn the bass up or down. You can also control it with the companion app to add a bit more or take away bass from the overall sound. This headphone is really versatile even with the audio outside of bass (i.e vocal clarity).
You will get a standard 22 hours of battery life even with the bass effect and noise canceling on. If you turn off these features you get more than 22 hours of battery life.


I personally love to hear a lot of bass with my music, and these are all about that life.

V-Moda Crossfade 2 Wireless
The design has a distinguished look. The shields that you see on the side of the ear cups are actually interchangeable. You can switch this up with different colors and materials to fit your style.
Very durable. You can bend them, twist them and not feel like you're going to destroy these.
Compact. This headphone can get really really tiny, so compact that it's super easy to travel with.
The extra large air cushions are very nice and plush, you will feel very comfortable wearing this even for long listening sessions.
A Multi Pairing feature that allows you to pair multiple devices simultaneously.
Very clear vocals, very nice punchy bass, and this headphone make you feel like you're a part of what you're listening to.
Only 14 hours of battery life which is on the lower side. However, it comes with an audio cable so if the battery dies you can plug this into your device.



Bose QuietComfort 35 II
Where these really excel is in comfort, thus the name: QuietComfort.
Giant super soft ear cups, these are probably the most comfortable headphones I've ever used.
Active Noise Canceling.
A new Google assistant button. If you don't use Google assistant, it can also be used to control your active canceling levels.
20 hours of battery life, but with 15 minutes of charging you can get two-and-a-half hours of playback.
The sound quality is solid, but only when you raise to higher volumes (above 70%) is when you really start to hear the different details and nuances. If you're only looking for quiet headphones, bring it down to lower volumes and these will be pretty minimum.


This headphones' extreme comfort and active noise-cancelling is what really solidified a spot on this list.

Beats X
Awesome price. You can find these for about $100 on Amazon.
Comfortable to wear and use for a long period of time, because it's laying on your neck which taking some of the pressure off your ears.
This headphone stay in their place really well, they won't fall out even when you're jumping up and down.
Foldable. You can put this headphone away very easily.
Packs a W1 Chip that allows Apple devices to get access to these earbuds without having to pair each one individually.
Solid 8 hours of battery life, and with five minutes of charging you get two hours of playback.
Charge with the lightning cable so you don't have to carry around different cables if you have Apple devices.
A very balanced sound, decent bass, overall clean audio. You can also go for the Beats Studio3 Wireless, which also has a W1 Chip so you'll be able to switch between your Apple devices.

Beats Studio3 Wireless


That's my list, but I have to give some honorable mentions…
The Sennheiser HD 4.40 are really solid if you're looking for an inexpensive pair of headphones. Below $100, you're not finding too many great Bluetooth headphones from a reputable brand like Sennheiser with an over-ear design.

Sennheiser HD 4.40
If you absolutely hate beats, the Jaybird X3 is definitely a good option. Solid headphones, solid app, overall good stuff.

Jaybird X3