5 min to read
The Laptop Guide for Creators
Original video published on Aug 29, 2019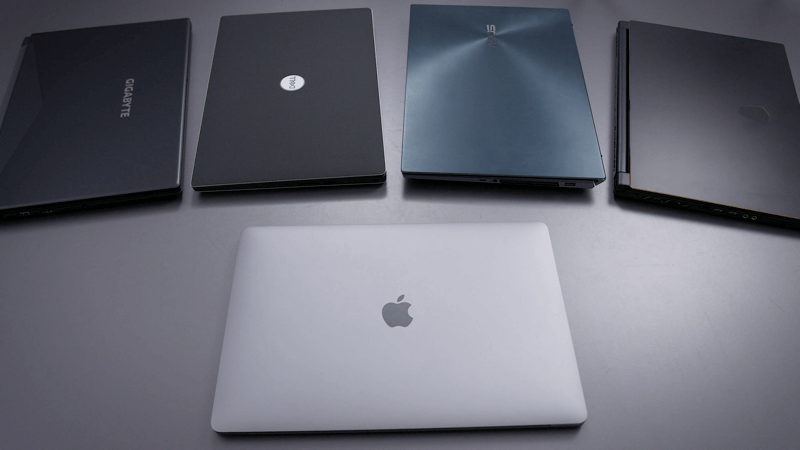 Adobe Products (MacBook vs. Windows Laptop)
This is an age-old debate of MacBook vs. Windows laptops. Over the past couple of years there's been a very clear and obvious winner when it came to Performance with Adobe products particular Adobe Premium, Windows Laptops are just 2-3 times better than MacBook with Adobe product's performance. Recently in like the spring of 2019 Adobe updated the software to the point where Apple's top of my MacBook are on par or just very equivalent in performance to the top of the line Windows laptops. I'm just talking about performance, Apple platform is a very viable platform for people that are interested in performance with Adobe products as of right now.
Screen
When you talk about content creation, a lot of people are interested in a screen that can display colors accurately to an industry-standard. The truth is every single laptop ever had with has an imperfect color profile they're never going to be as good as a professional calibrated screen. Samsung and a lot of manufacturers are marketing the OLED panels as content creator screens, but OLED panels are very difficult to calibrate. The Gigabyte Aero 15 lowered the brightness to do it properly.

Gigabyte Aero 15
But every other manufacturer with OLED panel have worse color accuracy than I thought they would considering how these screens are marketed towards creative workflows.

4K OLED Laptop Displays (Lower Delta E is Better)
OLED panels use PWM to control the brightness levels, if you're sensitive to flickering and bothered by fluorescent lights then the PWM on these OLED panels can give you some kind of eye strain.
I don't think OLED panels are the optimal choice when it comes to content creation, there are some really good IPS screens on the market right now:

IPS Laptop Displays (Lower Delta E is Better)
MacBook Pro 15 - Great screen, Bright, Color accurate
Acer ConceptD - 4K IPS panel, excellent color accuracy, bright, best screen from Windows laptop
Aero 15 2018 - 4K IPS panel, excellent color accuracy, bright, best screen from Windows laptop
Razer Blade 15 - 1080p high refresh screen, surprisingly good color accuracy for a gaming laptop

Razer Blade 15 2018 Model
Takeaway: You don't have to buy an OLED screen, some of the 4K IPS panels are very good for color accuracy work.
Pricing and Value
When you purchase a laptop for creative work, there are two main things to keep in mind: CPU and GPU.
The CPU: Pick a 6-core CPU, that's basically the number of cores that are in your processing unit of your laptop. You don't need the 2019 version, the 2018 versions are great.
The GPU: This is the graphical chip inside your laptop, depends on what you do for your creative work. If you're a Photoshop user or an Adobe Premiere user, you don't need anything super powerful. The difference between the GTX 1060 and the RTX 2080 is very slight when it comes to photo and video work.

Premiere Pro Render Time
MacBook users have a GPU option at the top end of a Vega GPU, and that graphics card is quite a bit more capable than their 560 or 560x. I would recommend to get that Vega option, it is a worthwhile upgrade.
RAM
Depends on what you do, but for the most part 16GB is good enough. There are a lot of applications that can take advantage of 32GB, if you're a photoshop user and once you get into bigger projects the extra RAM is nice. The same thing goes for video editing, I output 4K videos and I can definitely benefit from 32GB of RAM instead of 16GB.
Performance

Premiere Performance
The Adobe performance with Macbook is finally on par with Windows laptops which is really nice to see. Also noticed that the GPU choice is really not all that important. You really don't need the top of the line RTX Hardware when it comes to Adobe software.
Some key points for creator laptops:
Asus ZenBook Duo - Two screens with the 4K screen up top and the touchscreen on the bottom.

Asus ZenBook Duo
Gigabyte Aero 15 - Best OLED panel.
Acer ConceptD - Best screen for Windows laptops.

Acer ConceptD
Razer Blade 15 - Gaming Laptop that can use for creative works.
Dell XPS 15 - Solid overall device, comes with an SD card slot, doesn't have a particularly powerful GPU, and there's some thermal limitations.

Dell XPS 15
MacBook Pro 15 - Adobe performance upgraded. MacBook can run off of the battery with the exact same kind of performance as they would if it was plugged up. Window laptops doesn't perform as well if they're unplugged from the power.