33 min to read
FINALLY, the RTX 4070 Makes Sense! Razer Blade 14 (2023) Review
Original video published on Aug 11, 2023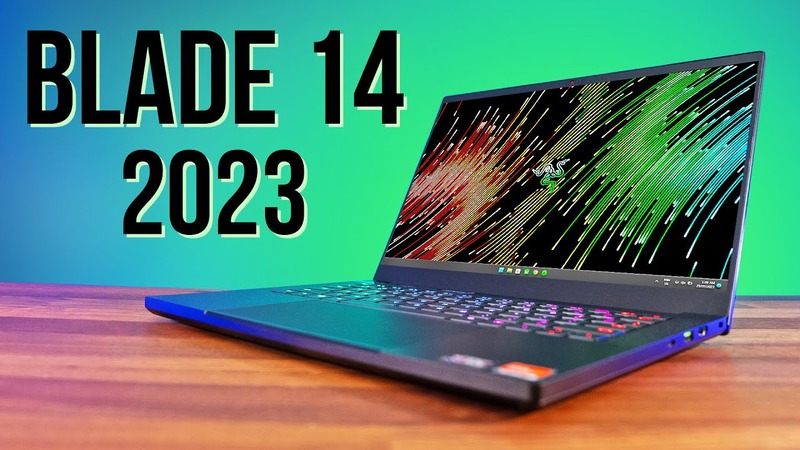 Razer's Blade 14 and Nvidia's RTX 4070: A Perfect Match?
Nvidia's RTX 4070 laptop graphics have been underwhelming this year. However, in Razer's Blade 14, they might just find their perfect match. Here's why.
The 4070 graphics hit a voltage limit between 90 to 100 watts, making it ideal for compact laptops.
The Blade 14's performance is comparable to larger 16 or 17-inch gaming laptops with the same 4070 graphics.
To illustrate, consider the 3DMark Timespy benchmark. When both GPUs are running at 100 watts, the RTX 4070 outperforms the top-tier laptop GPU from the previous generation, the RTX 3080 Ti, by 16%.

Design & Build Quality
The Blade boasts a robust CNC aluminum chassis, standing out as one of the top in build quality among gaming laptops.

Its signature black anodized finish is accentuated by a customizable, illuminated green Razer logo.
While the black variant is prone to fingerprints (easily cleaned), the mercury white option may resist fingerprints but attract other dirt.
The laptop's design ensures easy lid opening with sturdy hinges for smooth motion.
Size & Weight

Slightly thicker and deeper than its predecessor but remains portable.
Weighs 4.09lb (or 1.85kg) and 5.76lb (or 2.6kg) with the 230-watt charger
Laptop Specs
The Blade 14 I reviewed has specs as following:
CPU: AMD's Zen 4 Ryzen 9 7940HS (8C/16T)
GPU: Nvidia RTX 4070 (89-140W)
RAM: 16GB (8GB x2) DDR5-5600
Screen: 14" 2560x1600 240Hz
Storage: 1TB PCIE GEN 4 SSD
Battery: 68.1WH
Network: WI-FI 6E
Keyboard, Lighting and Touchpad

Razer's Blade features standout per-key RGB backlighting, offering uniform and vibrant illumination. The touchpad, now 50% larger, ensures a seamless experience without affecting typing.
Speakers
The Blade features front-facing speakers beside the keyboard. They provide some bass and resemble the previous gen's sound but can muffle at high volumes. Impressively, there's minimal wrist rest vibration.
Ports


For connectivity, the Blade 14 offers a variety of ports:
USB 3.2 Gen 2 Type-A x2
USB 4 Type-C x2 (Both Type-C ports support charging up to 100 watts and have DisplayPort support)
HDMI 2.1
3.5mm audio combo jack
Wi-Fi Speed
The Wi-Fi speed has seen an improvement from last year's Blade 14. Even though both models use the same Qualcomm card.
SSD Speed
The pre-installed 1TB PCIe Gen 4 SSD offers commendable read and write speeds.

Upgradeability
The Blade allows upgrades with a double-sided 4TB drive without any issues. However, since there's only one slot, you'll need to either clone your existing Windows install or opt for a fresh install.
The upgradeability of this laptop is impressive for a 14-inch gaming device. It surpasses the 2022 and 2021 Blade 14 models, primarily because of the addition of two memory slots. Marking a significant improvement from the past where there were no memory slots.
However, the uncommon TR5 screw type could pose a challenge for many users.
The model I reviewed came with two 8GB single rank x16 sticks. While Razer offers up to 32GB, you can push it to 64GB if you're looking to max out the memory.
Battery Saving Features
The Blade 14 boasts a 68Wh battery with unique software customizations. Users can adjust keyboard brightness, control lid logo lighting, or even set the lighting to turn off after a certain period of inactivity or when the battery drops past a specific charge level.

Unlike many laptops, this model allows battery charge limits between 50-80% to prolong lifespan. Additionally, the screen now auto-switches to 60Hz when unplugged, an improvement from manual adjustments in prior models.
Battery Life
The Blade 14 boasts a battery life of 9 hours and 20 minutes on a YouTube playback test, marking a 12% improvement from its predecessor, thanks to its 11% larger battery in the 2023 model.
Thermals and Cooling
The Blade 14 features two fans, a vapor chamber cooler for both CPU and GPU, and air intake vents above the fans with rear exhaust.
Razer's Synapse software offers various performance modes, from silent to balanced and custom. The internal temperatures remain cool at idle, and even under stress tests, the laptop manages to maintain decent external temperatures.
Display
The Blade 14 now features a 16:10 screen ratio with a 240Hz refresh rate. It offers an impressive color gamut ideal for content creation. Though Razer claims a 500 nit brightness, my tests found it even brighter.
CPU Performance (On & Off Battery)
The Razer Blade 14 has showcased commendable performance, especially when compared to other 8-core, 16-thread laptops.
The current Blade 14 boasts a 20% increase in single-core and a notable 32% rise in multicore performance from its predecessor. While the transition from Zen 3 to Zen 3+ showed minimal changes between the 2021 and 2022 models, AMD's Zen 4 has ushered in significant enhancements. This leap is so pronounced that even a handheld gaming console now surpasses the performance of last year's Blade 14.
The Blade 14 experiences a performance drop, especially in single-core, when running on battery—a trend also seen in its 2021 model, albeit less severe. This dip might be due to Razer's power settings rather than an AMD issue, as the ASUS G14, with the same processor, retains consistent performance on battery. Notably, the G14 outshines the Blade 14 with a 36% higher multicore score on battery.
Gaming Performance
In terms of gaming, the Blade 14 showcases the prowess of Nvidia's RTX 4070. Games like Cyberpunk 2077 and Red Dead Redemption 2 run smoothly, with the Blade 14 performing on par or even better than some larger laptops with the same GPU.
Content Creation Performance
For content creators, Blade 14 doesn't disappoint. Tests on Adobe Photoshop, Premiere, DaVinci Resolve, and Blender show competitive results, making it a suitable choice for both gaming and professional work.
Other Features
The Blade 14 comes with a 1080p camera equipped with IR for Windows Hello face unlock. A new addition in 2023 is the privacy shutter. The laptop also offers a standard MUX switch, but lacks advanced optimus and G-Sync. However, FreeSync Premium is available when optimus is enabled.
Pricing
As of now, the RTX 4060 model starts from $2400 USD, while the RTX 4070 version I reviewed is priced at $2700. It's a premium price, but the compact design and powerful performance might justify the cost for many.
Check Blade 14 Prices Now: https://geni.us/blade-14
Conclusion
The Razer Blade 14 (2023) is a testament to how technology can be compacted without compromising on performance. While it comes with a hefty price tag, the features and performance it offers make it a compelling choice for those seeking a powerful yet portable gaming laptop.
If you're considering a 14-inch gaming laptop but are on a tighter budget, the ASUS Zephyrus G14 might be worth a look. It offers a punch in a compact size without breaking the bank.