8 min to read
iPad Pro vs 2019 MacBooks - No Laptop Needed?
Original video published on Jul 31, 2019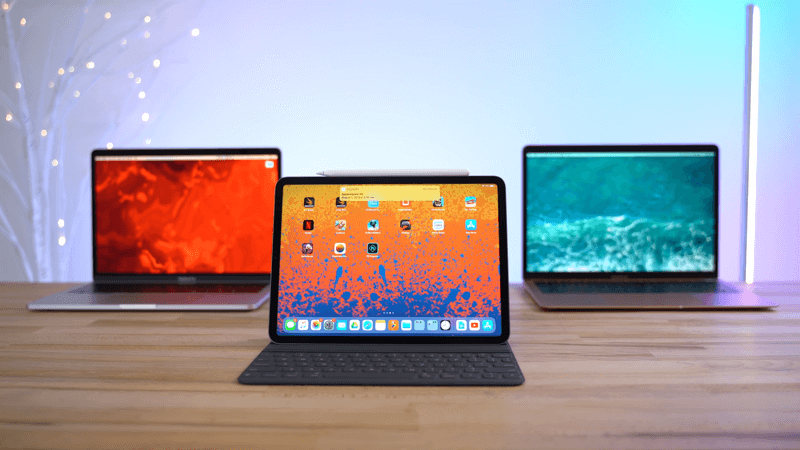 The majority of people have no idea that with the new iPadOS, an iPad can now finally replace a laptop.
The iPad Pro score higher in both single-core & multi-core task performance, as well as the graphics performance test.
The new iPadOS adds a bunch of computer-like features like updated multitasking, new gestures, automatic desktop mode in Safari, and a huge advantage is having access to the iOS app store.
"…and we call it the IPad. And what this device does is extraordinary. It's unbelievably great, way better than a laptop." - Steve Jobs
Steve Jobs said those words 9 years ago when he introduced the original iPad, but for the past 9 years iPads have always been limited and you could do so much more with a laptop.
However, in 2019, Steve Jobs' statement is finally coming true. The extremely powerful and capable iPad Pro is finally equipped with a USB-C port, and with the upcoming release of iPadOS, Apple's brand new operating system that's exclusively for iPads, adding lots of computer-like functionality. The iPad Pro packs a ton of performance and in some ways, offers even more than you can get with a MacBook.
We currently have a couple of options when looking for a lower-end premium Apple computer:
2018 iPad Pro starting at $799 (11-inches) / $999 (12.9-inches)
2019 MacBook Air for $1099
2019 13" MacBook Pro for $1299
And this year's base MacBook Pro is really great value for the cash, you can read more in our recent post: Which MacBook is Right For You in 2019?
Even if you go all out and load up the larger 12.9" model with 256GB of storage, plus Apple's new and improved smart keyboard, and the 2nd generation Apple Pencil, it still comes out cheaper than the 13" MacBook Pro with a matching 256GB of storage.
Now the point of this post is to see if the iPad Pro can actually be a better choice instead of going for a more expensive MacBook…
The iPad Pro performs better than both MacBooks in both single and multi-core tasks, which is absolutely incredible for the price.

Resource: Geekbench 4. Performance test for Single-Core task.

Resource: Geekbench 4. Performance test for Multi-Core task.
The iPad Pro got an even higher score than the $1800 2019 MacBook Pro for graphics performance test.

Resource: Geekbench 4. Graphics Performance with Geekbench 4's Metal test.
The iPad Pro is about to get even more powerful with a new A13X mobile chip expected in the iPad Pro update coming this fall. Yes, iPad Pro have only 4GB of RAM compared to 8GB (16GB for an extra $200) on those lower-end MacBooks. However, the iOS has always been optimized for low amounts of RAM and every app out there still works flawlessly.
Perks of the MacBook:

A full built-in keyboard and a trackpad with full cursor support, so you get a more traditional and comfortable laptop feel.
An extra port on the MacBook, or 3 extra ports for the $1799 MacBook Pro with faster ports and supporting Thunderbolt 3.
macOS. Multitasking and connecting external devices and drives are much better on macOS. It also allows you to use full desktop productivity apps like Final Cut Pro, Lightroom, XCode, and Photoshop.
The speakers are better, here's a quick sound comparison so you can hear the differences.
13-inch MacBook Pro
11-inch iPad Pro
13-inch MacBook Air
The iPad Pro is the only iPad that comes with 2 speakers on each side so you get true stereo sound.
Perks of the iPad Pro:

Portability. It's smaller, thinner, and much lighter, so it's easy to carry around.
Apple's Smart Keyboard Folio can also act as a protective case for the iPad, and it's easily replaceable if the keyboard somehow breaks. While the keys aren't as nice to type on, at least you don't have to worry about failed keys like with the butterfly keyboards on the Macs.
Flip the keyboard to the backside and use the iPad in tablet mode.
A touchscreen display with the iPad that's very simple and intuitive to use.
A higher pixel density for a sharper image, a brighter 600 nit display compared to 500 nits on the MacBook Pro, and just as color accurate with P3 wide-color gamut support.
ProMotion technology adjusts the display's refresh rate between 24hz and 120hz for super smooth animations and navigation. Every single Mac display is currently limited to 60hz.
While the MacBooks get Touch ID for quick login and authentication, the iPad Pro now has Face ID so it's really convenient.
LTE cellular service allowing you to have internet, make calls and text people while away from WiFi.
A rear-facing camera with 12MP photos and 4K video recording at 60fps, and a front-facing camera with 7MP versus the 720P camera on the MacBooks.
Compatible with the Apple Pencil to draw, take notes, and quickly mark up documents and screenshots.
10 hours of battery life with a battery that's twice as small as the one on the MacBook Pro.
Completely fanless so you never have to worry about any fan noise at all.
The new iPadOS adds a bunch of computer-like features like updated multitasking, new gestures, and automatic desktop mode in Safari. The biggest advantage is having access to the iOS app store, you have lots of alternatives for apps on iOS versus macOS.
Two major markets where it makes sense to buy an iPad Pro over a MacBook…
For Students:

Easy to carry around a one-pound iPad

Take notes with the Apple Pencil

Use the Smart keyboard Folio just like a laptop in class, iPadOS has added full keyboard shortcut support for typing documents and for use in Safari

iPadOS added Local Storage and external drive support to easily transfer schoolwork and files to and from the iPad

High-quality rear-camera to snap a photo of the chalkboard or powerpoint slide for future studying

External display mirroring support to connect the iPad Pro to a projector and present their slideshow

Offers immense amounts of power for extra performance for certain productivity apps or games

Excellent display and good enough speakers to stream media

The iPad is basically going to become the new standard computer for students.
For People who just need a basic computer for common tasks:

There are people who absolutely need a Mac for high-end video or photo editing, programming in Xcode, and audio production in Logic Pro.
However, for people who only do basic computer tasks like browsing the web, typing up documents, transferring and storing files, using apps and playing games, the iPad Pro is going to do them well.
For people that might not be very familiar with technology, an iPad Pro feels natural to them. The touch UI is simple and more importantly, it's very familiar because it's the same as they're used to on their iPhone.
The majority of people have no idea that with the new iPadOS, an iPad can now finally replace a laptop.