9 min to read
10 Tips for Buying a Laptop
Original video published on Feb 8, 2018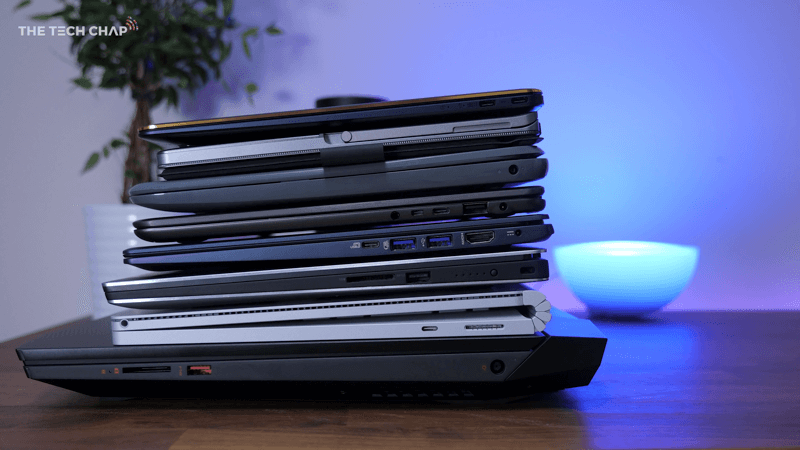 The truth is, buying a new laptop isn't easy. There are so many things to consider, it can get a bit confusing. I'm going to walk you through 10 things that you need to know to choose the perfect laptop.
1. Pick Your OS
Do you prefer using Windows, Mac OS, or Chrome OS? There's no right or wrong answer and it's usually best to stick with what you know.
Windows is by far the most common platform, so you've got the greatest range of laptops to choose from.
macOS is obviously exclusive to Apple Macbook and MacBook Pro, which are beautiful machines and easy to use but they're also relatively expensive. There isn't much variety and the latest models have a limited range of ports.
Chromebooks running Chrome OS are very popular with students. If you're on a budget and just doing really basic things like google docs, streaming Netflix, and send emails, a Chromebook could be ideal.
I tend to prefer going for a Windows 10 laptop because there's just so much choice. I can pay what I want, and get the specs and the features I need. If you're into gaming, Windows machines are pretty much your only option right now.
2. Design
Traditional clamshell laptop
Convertible two-in-one with a 360-degree hinge. You can turn the screen right around and use it as a tablet, or stand mode which is handy if you're watching movies. You basically get a touchscreen tablet experience, but all in one laptop.
Hybrid two-in-one with a fully detachable keyboard. You can just pull off the keyboard and tablet separately, and that way you can use it either as a normal laptop or you can use it as a tablet.
Generally, two-in-one devices are more expensive than a normal laptop and they won't be as powerful due to size and design restrictions. Although that's not always the case, Surface Book 2 is one of the most powerful gaming laptops you can buy but the price starts at £ 1500 (Approx. $1841) for the 13-inch model and £ 2749 (Approx. $3374) for the 15-inch model. When it comes to Power vs. Portability vs. Low Price, generally you can only get two out of three.
3. Screen Size
Most laptops have 13-inch, 14-inch or 15-inch screen sizes. You do get a few 11-inch budget laptops and some huge 17-inch or 18-inch gaming beasts.
Generally, as you'd expect the smaller screen size the lighter and more compact it is. The 13-inch and 14-inch ultrabooks (which is just a fancy name for thin and light laptops that use Intel chips) make great travel companions. Anything bigger you'll struggle to get any work done on trains or planes.

Bigger 15-inch laptops can be more powerful, but often less room for a dedicated graphics card and they can use more power-hungry processors.

The good news is that brands are putting bigger screens into more compact and travel-friendly bodies by trimming the size of the bezel around the screen. If you're going to leave your laptop at home or in the office, you may go for something a bit bigger and therefore hopefully a bit more powerful.
If you want something that's good on the road, then maybe consider a 13-inch ultrabook. If you can afford a high-end 15-inch MacBook Pro, XPS 15, or 15-inch Surface Book 2 is relatively compact for their size and offer really high-end performance.
4. Screen Quality
Firstly, make sure it's got an IPS Screen. They offer much better color accuracy and viewing angles. The alternative is a TN screen, it can look grainy and viewing angles are pretty terrible.

Ideally, go for a laptop with a Full HD (1920 x 1080). Even though everyone's talking about 4K, unless it's a 15-inch or bigger laptop and you really want those extra pixels for watching 4K movies or you're editing 4K videos. I'd avoid 4K as it has a big impact on your battery life, your framerate in games, and it's unlikely you'll notice the difference.

5. Specs
There are three main things to consider: the Processor, the RAM, and the Storage. Maybe also graphics card, if you're into gaming or you run more intensive workstation applications.
Processor: You'll see most mid-range or high-end laptops come with an Intel Core i3, i5, or i7 processor. Generally the higher the number, the better the performance you get. Unless you're doing lots of photo or video editing or more intensive tasks, a core i5 will be just fine. Every year these chips get refreshed and improved, with the latest 8th Generation processors now offering 4 Cores it's better for multitasking. Some cheaper laptops will come with a Pentium or Celeron processor, but unless you're using it for more basic tasks or you're on a super tight budget try to avoid these as a rule of thumb.
RAM: Usually you'll get 4GB, 8GB, or 16GB of RAM in a laptop. Unless you're going for a basic machine I'll avoid 4GB, the sweet spot is 8GB. For video editing, rendering, or any sort of power users go for 16GB.
Storage: I can't emphasize this enough how important an SSD(solid-state drive) in your laptop is, it makes a huge difference just to how fast everything feels from boot times, opening programs, and generally using the desktop. I highly recommend making sure your new laptop comes with an SSD. Some laptops have both a 32GB or 128GB SSD, and then a second higher capacity hard drive. You get the SSD speed boost for Windows, but you also get enough storage for all your files.
A budget of £ 500- £ 1000: Intel Core i3 or i5, 8GB of RAM, and at least a 256GB storage SSD.

A budget over £ 1000: Intel Core i5 or i7 processors, up to 16GB of RAM, and maybe a 512GB storage SSD.

A budget under £ 500- £ 600: Intel Core i3, or if you're really pushed, maybe an Intel Celeron or Pentium processor. Acer Switch 3 has a Pentium processor and it's fine because it's backed up by a 32GB SSD, and that makes the biggest difference in terms of performance for basic Windows tasks.

6. Gaming
If you want to play games seriously, you're going to want to look into a gaming laptop.
HP OMEN X - Come with an Intel Core i7 processors, 16GB RAM, and importantly a dedicated graphics card.

HP OMEN X
Dell XPS 15 or Surface Book 2 - Both come with an NVIDIA GTX 1050.

Dell XPS 15
Look for either NVIDIA GTX, or AMD RX, or aim the Vega branding on a laptop, which means it has a dedicated graphics card, which will make a laptop a lot more powerful and capable of playing games with higher settings and high resolutions.
7. Connectivity
Ports are really important, all I would recommend is making sure the laptop you get comes with at least one USB 3.1 type C port. It is still relatively new, but it can do pretty much everything and will definitely future-proof your laptop.

USB 3.1 type C port
8. Keyboard & Touchpad
In my experience, MacBooks and MacBook Pros have the best touchpads. They're big, responsive, and has great gesture support in macOS.

For Windows laptops, get one with a Microsoft precision touchpad, this guarantees the touchpad will be fast and precise. I would recommend trying the touchpad in the store before you buy it.

It's very difficult to describe a keyboard other than saying it's responsive, or clacking, or spongy. I would recommend trying the keyboard in person, because keyboards are very tricky to talk about.
9. Battery Life
How long should your laptop last? Anything quoted above 6 hours is decent. Since most brands test them at low brightness, if a retailer says 6 hours you can expect more like 4 hours.

The size of the battery, 4k resolution screens, graphics cards, and all the generation processors have the biggest impact on battery life. If you can get one with at least 6 hours, but preferably 8 to 10 hours, then that will do nicely.
10. Recommended Laptops
Note: These are recommended laptop links from the original video's description.
👉HP Stream 14
👉Acer Swift 3
👉HP Pavilion 15
Upper Mid-Range:
👉Dell XPS 13
👉ASUS Zenbook 3 Deluxe
👉Acer Swift 5
High-End:
👉Macbook Air 2019
👉Surface Book 2
👉Dell XPS 15 2019
👉Gigabyte Aero 15
Gaming:
👉HP Omen X Laptop
👉Dell Inspiron 7000
👉Razer Blade
Chromebook:
👉Acer Chromebook 14
👉Google Pixelbook